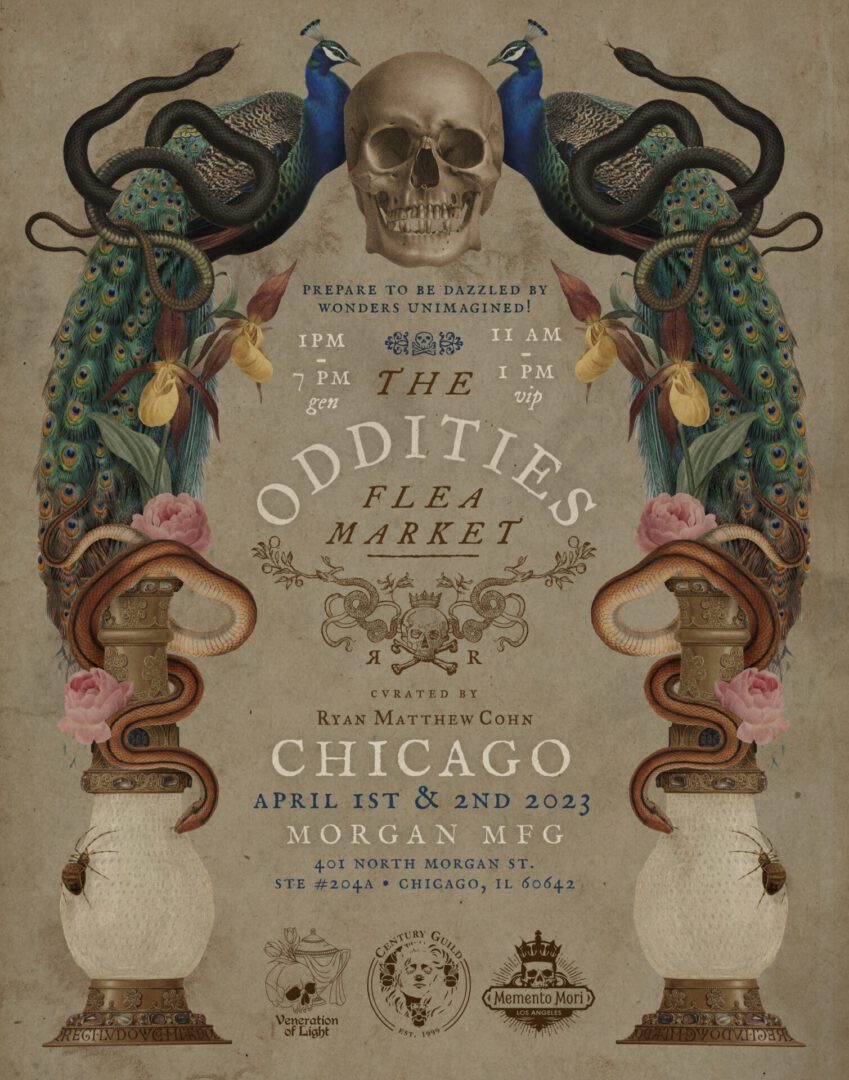 The Oddities Flea Market – CHICAGO
April 1 @ 11:00 am - April 2 @ 7:00 pm
We are THRILLED to bring our creations to CHICAGO…. One of our favorite cities! For the FIRST TIME EVER (as Memento Mori LA)….
Prepare to be dazzled by wonders unimagined! Shop a curated selection of medical history ephemera, anatomical curiosities, natural history items, osteological specimens, taxidermy, home decor, jewelry, one-of-a-kind art, and much more.
✧✧✧
DATES
Saturday – April 1st, 2023
Sunday – April 2nd, 2023
✧✧✧
ADMISSION TIERS
VIP: 11am –  1pm (CDT): VIP admission grants early entry at limited capacity
GENERAL ADMISSION – 1pm TO 7pm (CDT)
Children aged 10 and under enter FREE
Admission is allowed only for the date and time assigned to your ticket and cannot be changed after purchase. Masks are encouraged but not mandatory.
✧✧✧
SPONSORS
✧✧✧
VENDORS
Alex Streeter, Alexandra Winthrop, Allison Fretheim Ceramics, Ampersand Curiosities, Atropos Curios, Audrey Benjaminsen Illustration, Bill Crisafi, Bitter Nectar Butterflies (Sat. only), Blue Bayer, Chasing Wolves, CryBaby Sweets, Daayani Yoga, Deadskull Curio, Emma Alamo, Eyeba, Ferel Femme Art, Gillie & Gloom, Graveyard Wanders, Hex and Wax Candle Co., KIL N.Y.C, Kita, Karen Bachmann, Katie Gamb, Last Rites Vintage, Little Black Bats, Loschy Designs, MORTUS VIVENTI, Memento Mori LA, Mila Hardware, Mother Night, Natures Oddities, Ozma Autonomy, Paper Stranger Jewelry, Rave Nailz, Rebels & Outlaws, Ritualcravt, ShopYouPlayYouPay, Sideshow Gallery, Sophia Rapata, Soul Perchers, Miss Havisham Curiosities, Pie, Pie My Darling (Sun. only), The Olde World Emporium, Tin Types by Blkk Hand, Veneration Of Light, White City Devil, Yamasden
✧✧✧
WORKSHOPS available during the Oddities Flea Market – Chicago!