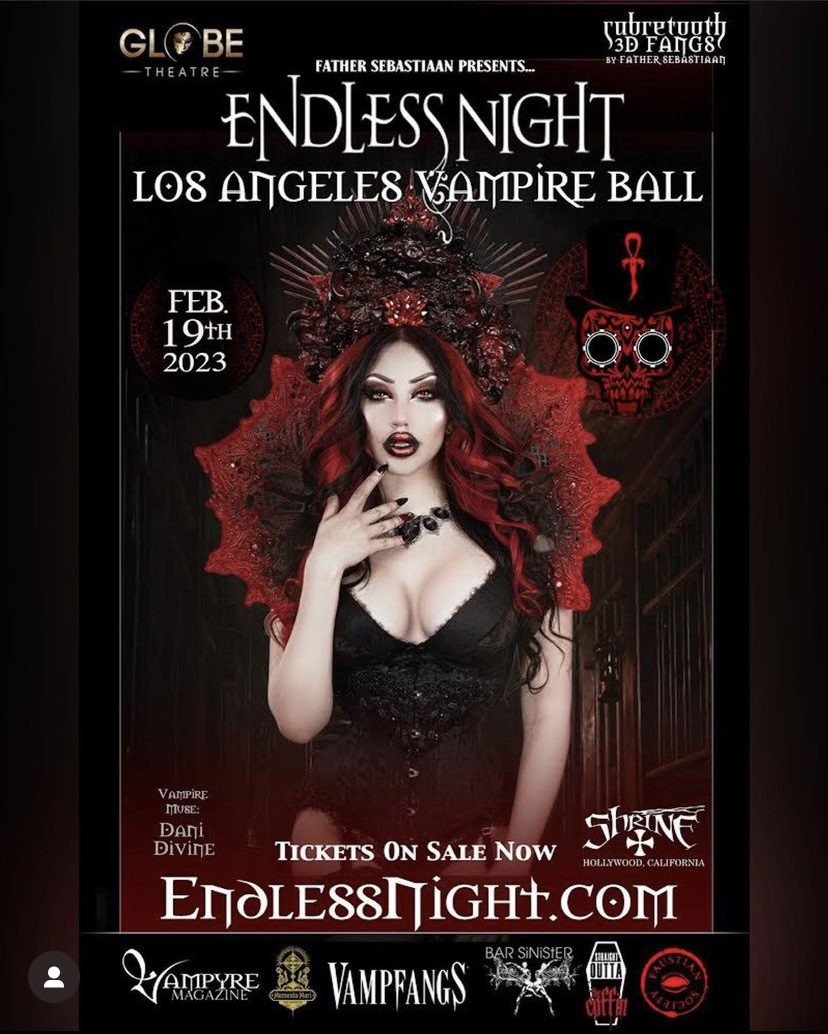 The Endless Night Vampire Ball – Los Angeles
February 19 @ 9:00 pm - February 20 @ 3:00 am
Endless Night presents the Los Angeles Vampire Ball 2023 at the Globe Theatre on Sunday February 19th. Created by the Impresario Father Sebastiaan, a leading expert on the vampire / Vampyre culture, master fangsmith of the Sabretooth and author of Black Veils and Vampyre Magick. The Endless Night Vampire Ball is heralded as "The No. 1 Halloween party in the world" by TripAdvisor and has also been described as "A Venetian masquerade ball meets a vampire court with the energy of a rock concert and the elegance of a 19th century burlesque cabaret.
Endless Night began in 1996 as the "Vampyre Ball of New York" with the "Main Gala Event", the New Orleans Vampire Ball, over Halloween weekend at the House of Blues annually since 2000. The name Endless Night comes from the William Blake poem "Auguries of Innocence" in which he states "Some are born to Sweet Delight, Others are born to Endless Night."
Featuring world class DJ's from around the globe like:
DJ Lord Fer  (Mexico)
DJ Matt V Christ (Endless Night NY, LA, Salem, NOLA)
DJ Erik Aengel (Endless Night NY, LA, Salem, NOLA)
plus MORE TBA!
There will also be a Vampire Bazaar in the Wunderground as well as live performances! Check back for updates as more will be announced soon!
DRESS CODE: Victorian, Edwardian, Latex, Ancient Cultures, Baroque, Medieval, Pagan, Elegant gowns, Top hats, Black Tie, Cloaks and Capes.  NO: Superhero cosplay, Jeans or T-shirts.  When in doubt wear all black. Be fabulous and amazing! Fangs, SFX contacts and Legacy Ankhs encouraged but not required.  http://www.endlessnight.com/dresscode