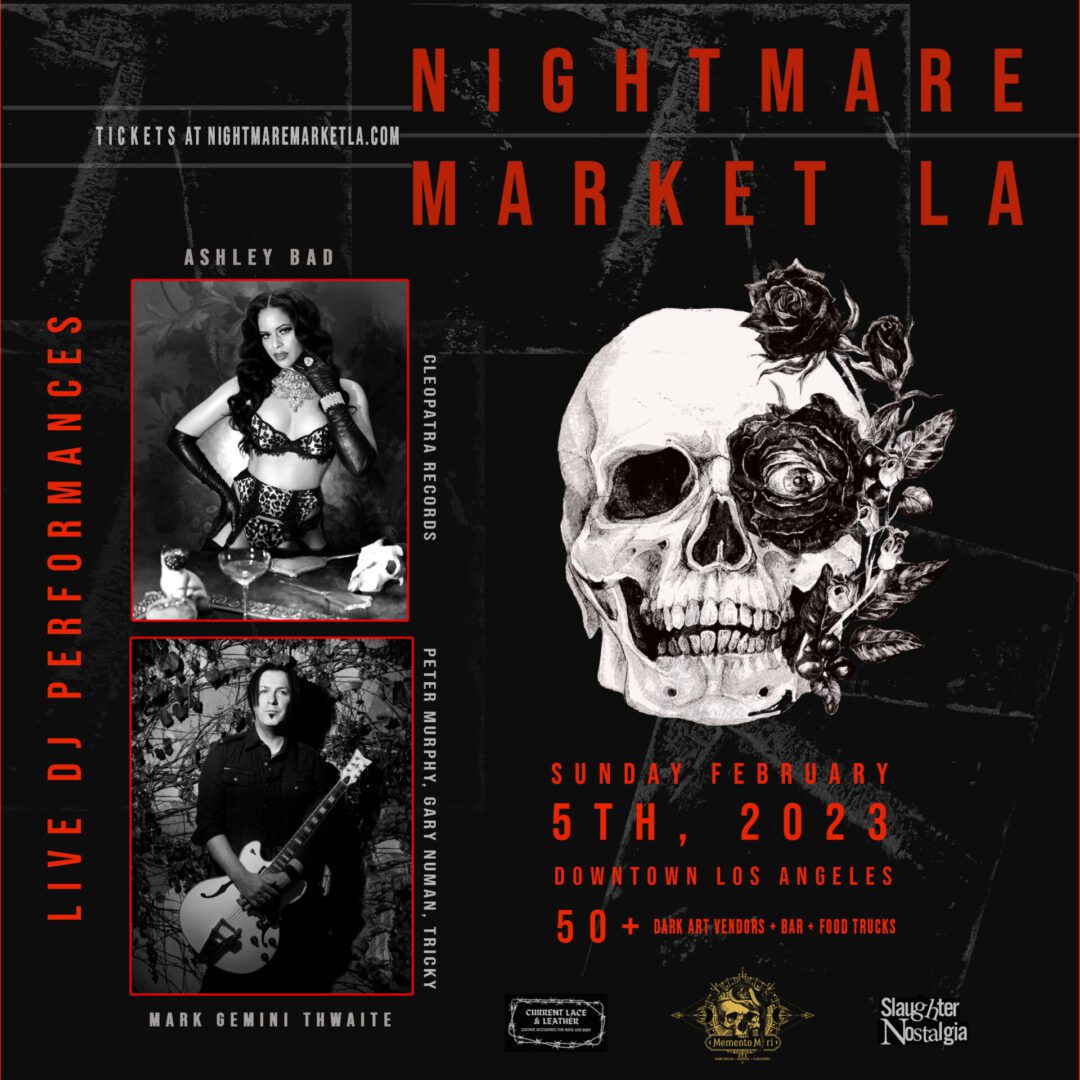 Nightmare Market LA – DEAD ROSE
February 5 @ 12:00 pm - 6:00 pm
NMLA invites you to their BIGGEST SHOW YET!! DEAD ROSE… a tribute to Valentine's Day, but for the morbid hearts.
Featuring over 50 vendors: dark art themed: illustrations, paintings, oddities, wet specimens, taxidermy, fine jewelry, fashion goods, merchandise, odd items and more at the beautiful Monarch Studios in DTLA.
EVENT SPONSORED BY:
LIVE DJ SETS BY:
Ashley Bad (Cleopatra Records) and Mark Gemini Thwaite (Gary Numan, Peter Murphy, Tricky) spinning live, traditional goth, industrial and dark jams.
FOOD TRUCK: Fuego Tacos
BAR AND COCKTAILS by: Barmaid Beauties
TATTOOS by: A Hidden Pathway
VENDORS:
Heart of Steel – Sandy Delgado – Angel Rot – ˚Kookybat Art – Nitecrawlher Art – Hy Art – Empty Funeral – Mystic Mouse Emporium – Abby Belle – Purgatory Candle CO.- Funeral Parlor Bazaar –Witches and Devils Coven – Damage Goods- Odd Conserva Co. Still Frames – Kria Lindquist – Seven of Swords – Our Darling – Joe Rizzotto Art – The Art of Shane Izykowski – The Art of SketchWitches and Devil Coven- Puppets With Teeth – Lilth Bizare- J Meeks Apothecary- Nightshade Veil – NIGHTMARE INC/SAGE ALEXANDER- Altar Ego Design- Bitter Sinful Dead-Steven Russell Black ( Wizards of the Coast, Image Comics, Scout Comics )- Dreamy Creeps-Whiskey Witch Wares- Ave Rose- Disasterina-  and more to be announced…